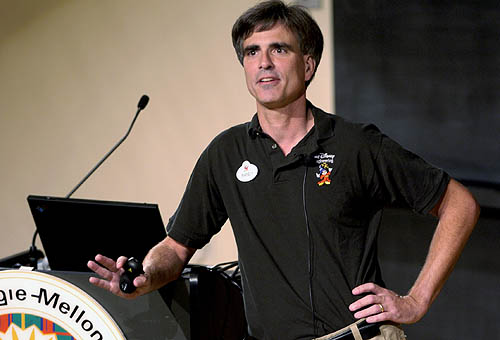 I can honestly say that I really enjoyed watching
Randy Pausch Last Lecture: Achieving Your Childhood Dreams
. The three points of his video was his childhood dreams, enabling the dreams of others, and how you achieve your dreams. From the beginning of the video I realized that he was a very determined person, even as a child. Randy Pausch had several childhood dreams. However, so he knew that would never happen. He explained that he had a wonderful childhood and in every childhood picture he was smiling. He also goes on to explain that it is very important to have specific dreams. He knew he could never make it to the NFL but that didn't stop him from trying. he stated that he got more from not accomplishing his NFL dream than the dreams that he did accomplish. Being able to get the fundamentals down before getting fancy is very important. Later on in his video, Pausch states a quote, "Experience is what you get when you didn't get what you want". I couldn't agree more. AS a teacher, I plan to teach my students that you can learn from what you didn't achieve. It should only make you work harder. For example, Pausch says that the brick walls are there for a reason.
I believe that Randy Pausch was amazing at helping students achieve their dreams. he created a course called Building Virtual Worlds. It is basically a course on childhood dreams. The course has 50 students from art, design, drama, and CS. The students are picked randomly for teams that work on a project for two weeks. After the two weeks, the students are moved to a different team. Randy Pausch didn't know what to expect from the first project but he was shocked at how well the students did. He had to call his mentor and ask for advice on what to do next. His mentor said to go tell the students that they did a great job but they could do better. I didn't know how to take this at first but once he explained it I realized that was really good advice. I believe it is good advice because it would make the students work harder. I plan to use this teaching method in my future classroom and get a good reaction out of it.
Randy Pausch went on to explain about an ETC course in his video. It is a project based and hands on course. For example, the students would use video games to teach people things. What students wouldn't like to do that? Pausch explains this as being a "head fake" which is a good way to teach. It means having the students think they are learning something else but instead learning something meaningful. The students wouldn't realize that they are learning because they are having so much fun. This is another teaching method I plan to use in my future classroom. I want my students to have fun in my classroom and learn at the same time. I believe that it will make them want to learn more in the future.
The lessons learned that Randy Pausch explains about in his video are very useful. He explains that it starts with the parents and they should teach their children to help others. His parents helped students go to school in Thailand and passed it down to him. Eventually him and his wife helped on the same project. I feel that children watch their parents and therefore parents should be a good role model for their children. I also feel that teachers are role models too. A a parent and teacher, I plan to teacher my students and children to help others when in need. I plan to also teach them to never loose their "child-like wonders". It is very important to dream and strive to achieve them.